---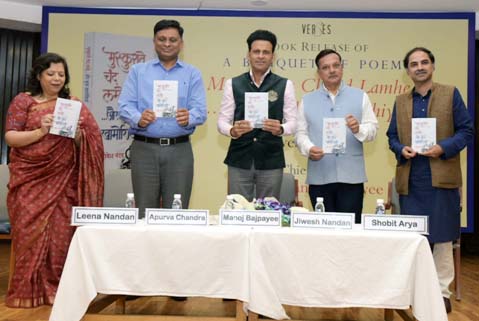 New Delhi (The Hawk): 'Muskuratechandlamhe, aur kuchhkhamoshiyan' a bouquet of poemswritten byShri Jiwesh Nandan was released todayby renowned film actor Manoj Bajpayee at Multipurpose Hall at India International Centre, New Delhi. The event was also graced by Secretary, Information and Broadcasting Shri Apurva Chandra. The wife of Shri Jiwesh Nandan, Smt. Leela Nandan was also present at the event.
On the occasion, Shri Apurva Chandra said that the book contains philosophy, humour, romance in it. He also recited some lines from the book. Shri Apurva Chandra said that Jiwesh Nandan has a multi-faceted personality and all these are reflected in the book and the poems.
Shri Manoj Bajpayee said the poems haveTaal, flow in them and he recited the poem Tohacchatha from the book.
This book of poetry has been a labour of love written over many years and hence one can see the imprint of time on the emotions in the poems. This book contains hindi poems and some sher-o-shayari. The mood of poems encompasses all hues of life. It has sorrow, romance, humor and philosophy. One of the interesting things is that some poems have two flavours: one part is philosophical and the other is humourous. Presented as an anthology traversing a range of feelings, meant to touch every aspect of life, is 'Muskuratechandlamhe, aur kuchhkhamoshiyan'
Shri Jiwesh Nandan is a retired IAS officer of UP cadre (1987 batch). The author Shri Jiwesh Nandan has also penned a book named 'Maha Kumbh: A Spiritual Journey'. Smt. Leela Nandan has penned a book named 'How to Placate an Angry Naga: Finding One's feet in the IAS'.
Publisher of the book, Shobit Arya is the founder and publisher of Wisdom Tree, an award­-winning independent Indian publishing organisation with global presence. He brought many firsts to Indian publishing, including leading Wisdom Tree to become the first Indian publisher to sell books on Kindle. Verses is the poetry imprint of Wisdom Tree, an award-winning independent publishing organisation.
---